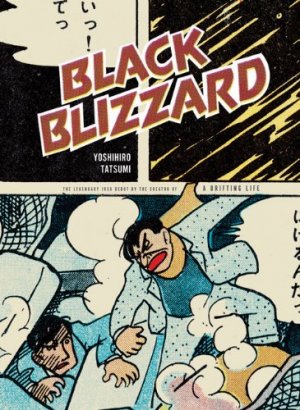 © 1956 Yoshihiro Tatsumi /
Black Blizzard
€
THE PRE-EMINENT GEKIGA-KA'S FIRST GRAPHIC NOVEL FROM OVER FIFTY YEARS AGO

Created in the late 1950s, Black Blizzard is Yoshihiro Tatsumi's first full-length graphic novel and one of the first published examples of gekiga, Tatsumi documented this landmark genre of manga, and the creation of this graphic novel in his epic critically acclaimed 2009 autobiography A Drifting Life. With Black Blizzard, Yoshihiro Tatsumi returns to the dark underbelly of his working class heroes that made me him one of the most well known Japanese cartoonists in North America.

Susumu Yamaji, a 24-year-old pianist, is arrested for murder and ends up handcuffed to a career criminal on the train that will take them to prison. An avalanche derails the train and the criminal takes the opportunity to escape, dragging a reluctant Susumu with him into the blizzard raging outside. They flee into the mountains to an abandoned ranger station where they take shelter from the storm. As they sit around the fire they built, Susumu relates how love drove him to become a murderer. A cinematic adventure story,Black Blizzard uncovers an unlikely love story and an even unlikelier friendship.